Landscape Maintenance-Grounds Care-Garden Maintenance
NEWS for 2013.
MIB Services is delighted to announce we continue to grow and win more work. 2013 has seen a good start to the season already and we are delighted to blog we have quoted for and won several new contracts for this year.
Firstly we took on the grounds and garden works for Muirhouse Medical Practice in Edinburgh, then the grounds maintenance of the AOC Archaeology Services Ltd offices in Loanhead and soon after that we won the contract for the grounds maintenance of Waterfront Avenue, Edinburgh for
Waterfront Edinburgh Ltd,
 a company set up and owned by Edinburgh City Council. Click on the link to find out more about what's happening in Granton shorefront in the coming years.
Over the next 2 decades there will be on going redevelopment of the Granton shorefront area, comprising of new homes and retail space. MIB Services is excited about working with Waterfront Edinburgh Ltd and look forward to establishing an ongoing business relationship with them.
We are investing in new machines and plant for 2013 and look forward to winning more new contracts. We provide landscape and grounds maintenance services throughout Edinburgh, the Lothians and Fife. Contact us if you need a company that provides for all your estate and open space needs. 
Do you have large grass areas that needs regular cutting ?, call us, we can help you.
Do you have small grass and grounds or office gardens needing regular maintenance ?, call us, we can do it.
Do you have office and factory / warehouse grounds that need kept ? call us, we will help you.
Do you have Factor Managed sites you need landscape maintenance carried out on ? call us we will sort it for you.
We carry out ALL ASPECTS of grounds and landscape maintenance works for a variety of customers, many who we have been working with for many years now and some who have just taken MIB Services on board last year and this year. We are professional, qualified, competent, courteous and friendly. 
"VALUE ADDED SERVICE". What is that ???.......... Well when it comes from MIB Services it means going above and beyond what you would expect from a business to business relationship. When we quote for your landscape maintenance requirements, you almost always get more for your money than from our competitors. Whether thats a better price and service or additional services included in the specification at no extra cost to you, there is always something on each of our sites that makes us stand out from the rest. 
No matter how big and awkward your site, no matter how small and easy your site is, you will always get a reliable, competent and friendly 3 man squad of landscapers working to make it a brighter, better green space to be. 
Every company needs to bring costs down, it's a necessary evil. With that at the forefront of our price schedule, we are for 2013 offering all new customers to beat any like for like quote by 20%. How can we do that ?. Well its all down to having the best machines and landscape practices for the job. We are a small family run business with four employees, but we are very well equipped with the right plant, machinery and staff and that makes the difference to how we service our sites. We have 4 ride -on mowers, all different sizes and all with different capabilities. So no size of grass area is outwith our remit.
I'm Brian Moore, the proprietor of  MIB Services, I'm also the office manager, squad foreman, landscaper,  labourer and tea boy. In other words, when you call MIB Services in to do the work you get the full attention of the person who owns and works IN the company and many of my customer like that fact. When they need something doing, they know that when they call, they get direct access to me and the problem is taken away and dealt with, normally within 24 hours of the call, THAT'S what makes us the stand out large scale grounds and landscape maintenance company in Edinburgh, the Lothians and Fife.

MIB Services, efficient, reliable and big hearted.
Read Full Post »
M.I.B. Services Gallery of Works: 
These are some photos taken of our sites and operations in grounds care, landscape maintenance and tree surgery.
We carry out these services throughout Edinburgh, Midlothian, East Lothian, Fife and the Scottish Borders regions. We are fully qualified, skilled and experienced in the operations we carry out, we are fully insured to £3,000,000 for public liability and accredited to SAFEcontractor and Human Focus RoSPA standard for our health & safety policies and safe working practices. We are also a SEPA registered waste carrier and dispose of all our waste in a legal and professional manner. We hold a Midlothian Council trade waste certificate and dispose of as much of our green waste to recycling as possible. All our staff are CBR (criminal records bureau and Disclosure Scotland vetted and approved.
Here at M.I.B. Services we think in this day and age it's vital to give our customers the confidence that they are dealing with a professional business and to aid this, all core staff employed by us are vetted through the DisclosureSCOTLAND and CRB (criminal records bureau).
We are one of only few Edinburgh based landscape maintenance businesses do so. As a family run business, trust is everything to us and we make every effort to assure our customers they are in fact dealing with a, professionally qualified, well organized company and most important, a company that they can trust to carry out their work with no problems.
As well as all core staff (including the proprietors of the business) we also firmly believe in ongoing staff training and company training. M.I.B. Services is one of the few in our industry that are fully qualified in amenity horticulture (SVQ level II) and associated machinery operation competences (Lantra, NPTC and City & Guilds) as well as the company and proprietor being accredited to SAFEcontractor, RoSPA Human Focus, CSCS and S.P.A. health and safety standards. All of these H & S accreditation's are approved by the Health & Safety Executive (HSE).
We believe our customers who include, A P Broome Lanscapes Ltd (Nation Grid contracts), Ross Liddell, Grant and Wilson, Peverel Scotland, McSence Property Services, TGR Holdings, NSD International, Buckstone Residents Associations, Fairmeadow Residents Association, PLS Ltd and Skanska FM appreciate the on going personal development plan of M.I.B. Services and it's staff. It's our guarantee to our customers that we are a pro-active company who are constantly evolving and developing our skills and training, which in turn produces a quality service backed up by professional qualifications and accreditations which our customers can put their trust in.

To find out more about our qualifications and accreditations please see the banners at the top of our home page, just click on the icons and it will take you through to the related website.
Read Full Post »
Japenese Knotweed, the home owners and development manager's nightmare.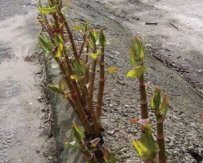 This is one plant or weed you do NOT want growing on your property, or anywhere near it for that matter.
Japanese Knotweed was introduced to Britain many years ago from the far east and has quickly become a listed pest. It has a very destructive growth pattern and will quite happily reduce your bricks and mortar to rubble. If you spot this in your garden or anywhere near it, call us immediately and we will come to your property and assess it for you. The quicker this plant is caught and stopped, the less chance of it doing your property and land damage.
"getting rid" of this pest is a slow drawn out affair which can take a number of years of chemical application via spraying and stem injection. First spraying of the leaves to weaken it and reduce it's mass and then further stem injection operations are required to get the chemicals down into it's root system. Japanese Knotweed's root system extends for metre's under ground, hence the reason it takes a very long time to kill off completely.  
It is illegal to cut it down and remove the cuttings from your site unless you are a SEPA registered and licenced Knotweed contractor.  

Giant Hogweed
Again this this plant was introduced to Britain many years ago from Asia. It secretes a toxic sap and can cause serious burns and blisters to the skin which can take months to heal. Should you be unfortunate enough to get the sap into your eyes then there is a real possibility of blindness, 
Eradication is best done by chemical means and is a service we supply to the private and commercial markets.
Do not let your children play in an area where this plant is growing, and call us to have a survey done to eradicate this pest.
DO NOT let this plant onto your property.
Read Full Post »
M.I.B. Services has recently won the contract to maintain the Sedum roofs of 7 newly built primary schools in Midlothian.
I have to admit it felt a bit strange doing mowing and strimming up on roofs !!!!. Before we could even get near the roof, we had to undertake a "working at heights" and a "safety harness " training course, a big thank you to Gavin at Pendrech Height Services for his excellent training course.
We are very pleased to have won this work, it gives us a new market to explore and lots of new opportunities. Our customer is one of the biggest construction and facilities management company's in the world.
Below is some photos and a little about what we will be doing for the contract.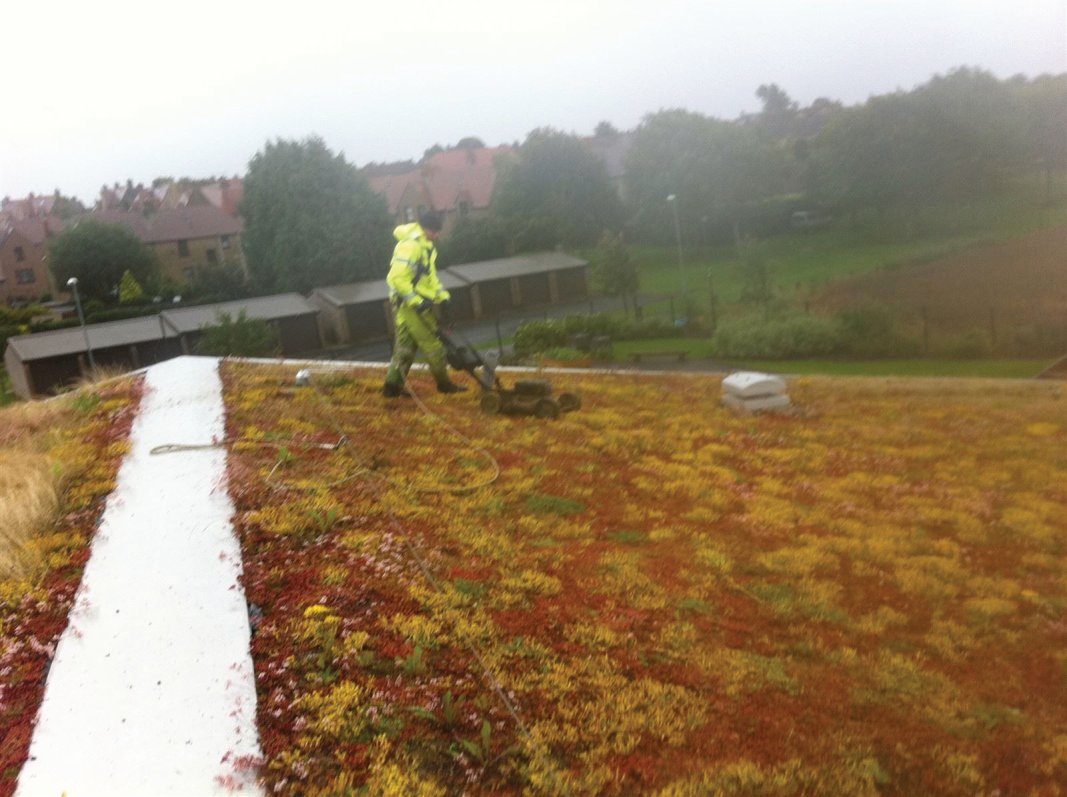 Mowing the Sedum roof.
Yes it does sound silly mowing a roof and we certainly got some strange looks from passersby, but this is just one method of maintenance works for Living roofs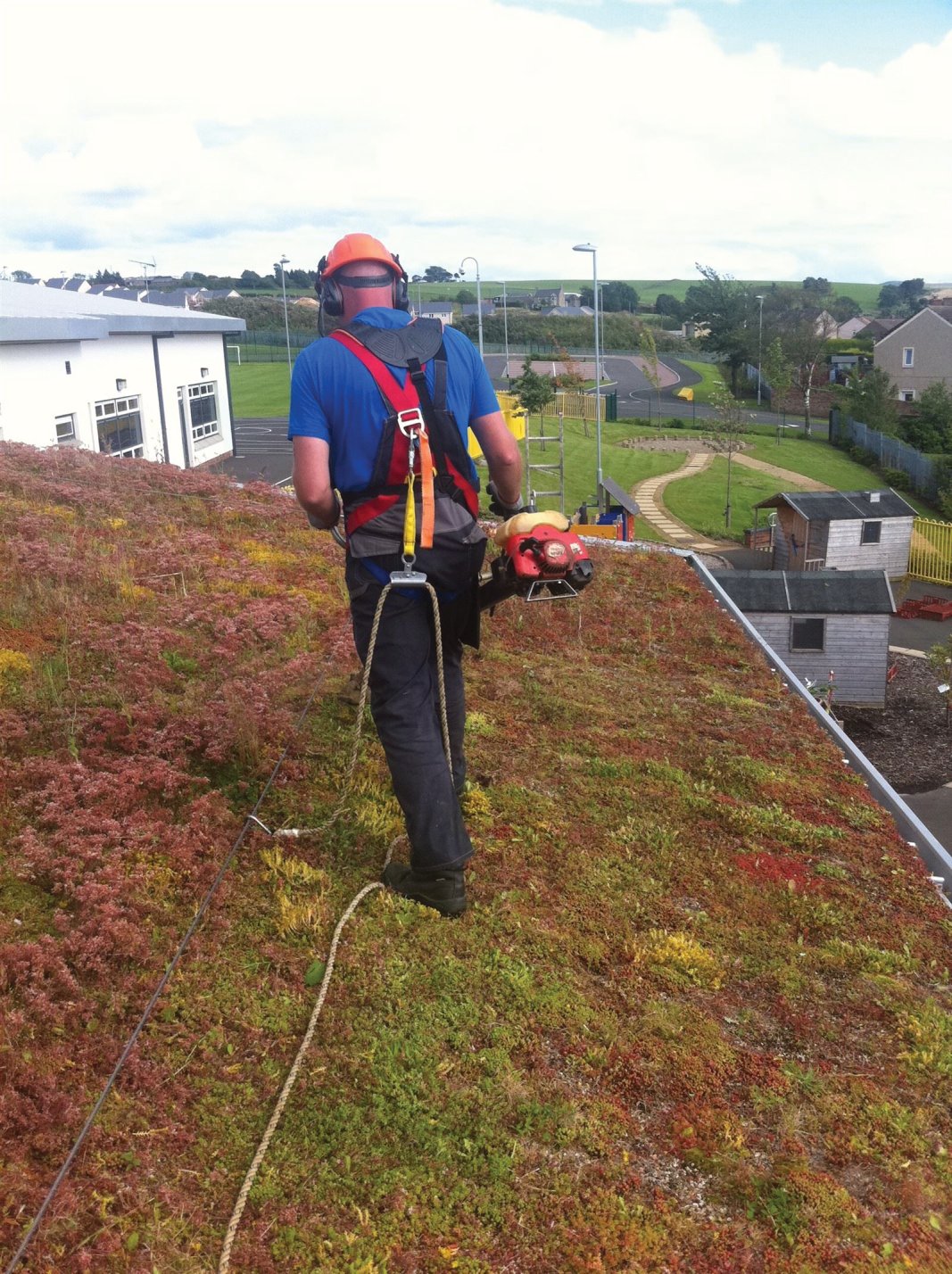 The other way is to strim the Living roofs as this picture shows
Sedum or living roofs are quite a new construction styling to the UK market, and I hope we will see many more schools, universities, colleges, NHS Doctors Practices being constructed in this way.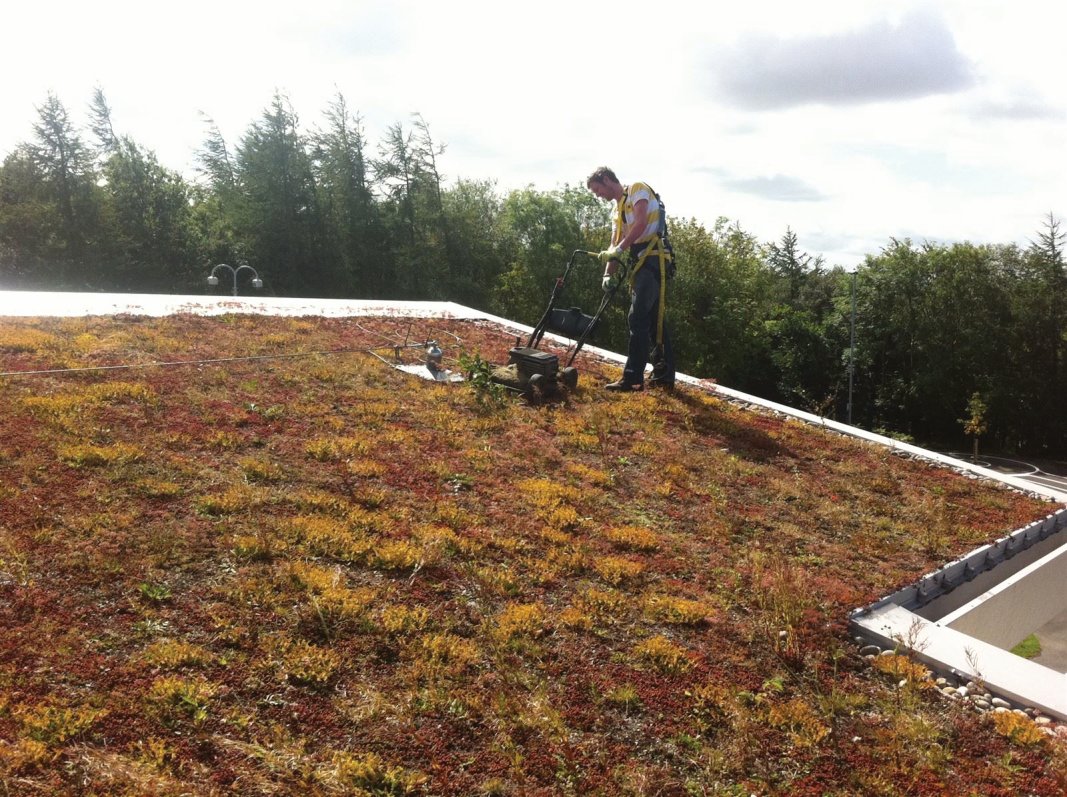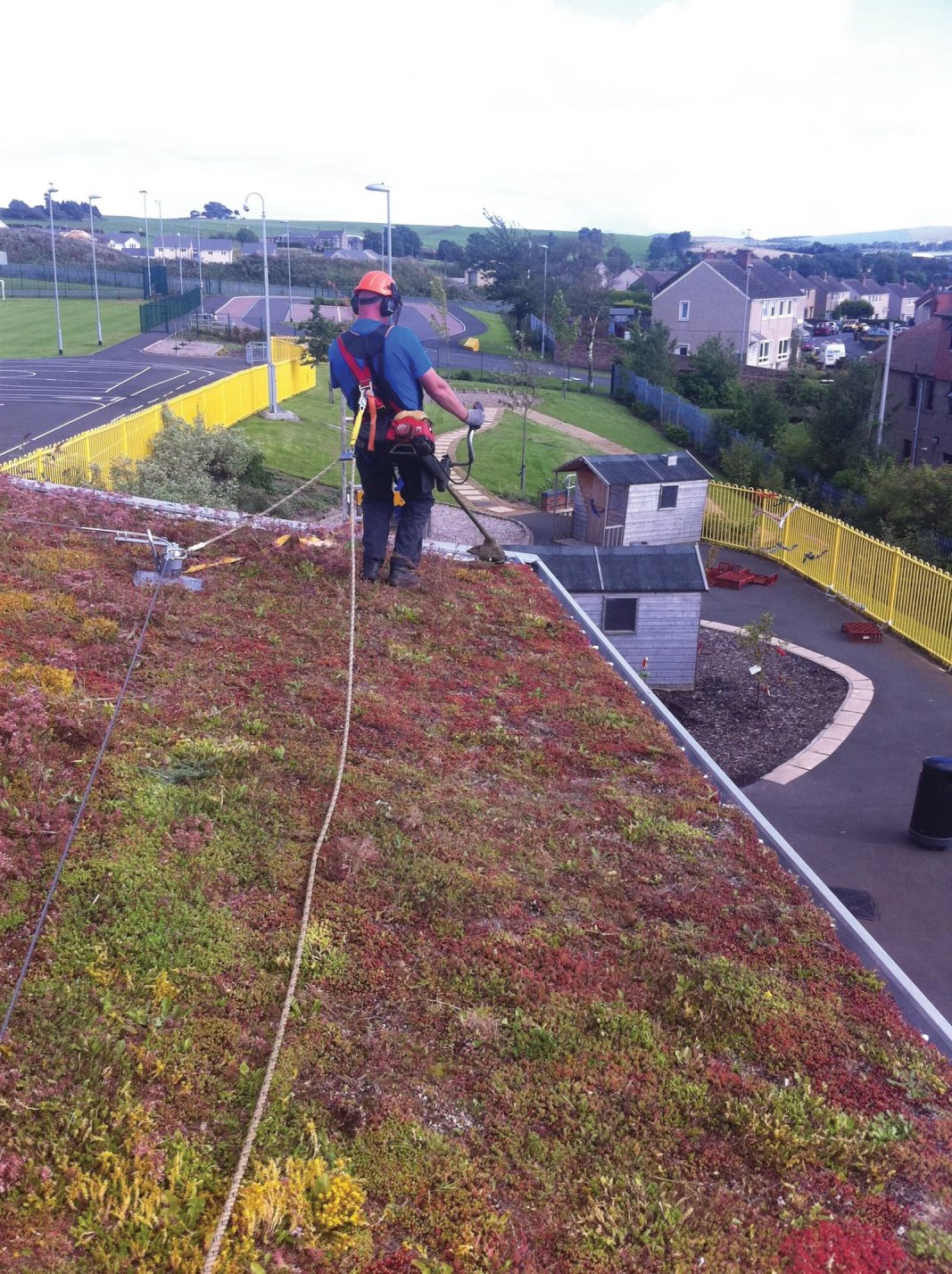 Read Full Post »
Turfing works on Glentress Forest mountain bike centre.
We recently completed a rather unusual turfing project at the Glentress centre, Peebles.
Creating outdoor seating constructed entirely from turf. Here are the photos taken before, during and after all the work.
This job involved 1200 rolls of turf.
As it looked before we started the make-over works
The hard work begins !!
Building up the sub-base of the structure's
Taking level's and setting height's
We created the "building blocks by unrolling the rolls of turf and folding them into square-ish blocks and the whole job was was completed in much the same way as you would build a brick wall. Every second layer of "turf block" was locked in place with a wrap over layer of turf as shown in the photos below. 
Grubbing up the ground around the turf seating prior to the seeding of wild meadow flower and grass seed to compliment the seating area
Nearly completed
Preparing the last area for turfing. This took a back breaking day of hand barrowing in some 40 tonnes of top soil
Once the top soil was in place it was raked to level and prepared for the final phase of the turfing
All the tuf laid, just a few finishing cuts to even off and job done.
In the background you can see the finished turf seats from the previous photos. 
All in all, a really nice job and something really different.
Read Full Post »
Next week see's the start of the grass cutting season. It's been a long, long winter.
A couple of new sites to start this season also, looking forward to them. All the grass machines are serviced, cleaned and ready to go.
Read Full Post »
When you hire M.I.B. Services to take care of your grounds, you can expect to be involved in full with all the contract planning and negotiation, both for your protection and the protection of M.I.B. Services. The contract summarizes the extent of the work that needs to be carried out and whether it is a one-time thing or an ongoing plan of maintenance. We can specify the services for you or you you can give it to us, things such as how the works are to be carried out, when and for how long. The price is also part of the contract as well as the method of payment and the intervals between payments so that there can be no confusion about this by either party.
A M.I.B. Services maintenance contract will include the following:
- the names and address of both parties
- the aspects of maintenance that will be provided
- the start and end dates of the service
- the cost of the service
Both parties will sign and date the contract. Although you won't need to have a lawyer to legalize this contract, it is considered a legal document and is binding on the part of both the contractor and the client.
Another facet of our contracts include the option that either party can cancel the contract at any time, giving a 30 day notice period, so in the unlikely event you are not happy with our services you have the entitlement to cancel without charges being levied against you.
Commercial clients often engage our services to take care of their portfolios of properties for the undertaking of mowing the grounds, looking after the plants and shrubs and to provide a neat and tidy appearance for each estate or single property.
Read Full Post »
Crocus and daffodils starting to shoot is a sure sign of mother nature at work and a change in season's and weather is not far away. If you look out for local communitiy ameniety areas you will see the signs of spring.
New buds on the trees and shrubs just getting ready to burst into life. Soon our dank, bare trees and shrubs will be green and the vast amount of ornamental Cherry trees will be full of gorgeous flowers again and the always welcome, scent of freshly cut grass will be with us again.  
Read Full Post »
Due to the severe winter snow and generally freezing conditions the whole country has experienced this winter, we are late in getting all our pruning works carried out, but all will be done for the end of February.
Read Full Post »
/